save time.
cook better.
get
nourished.
Natalie Cooks Cooking Club provides weekly menus, exclusive recipes, downloadable grocery lists and videos to help busy, active professionals like you cook real, nourishing food at home.
do you want to eat more

nourishing

food?
The Cooking Club is designed to help fuel you through your work week, feel inspired in the kitchen, and nourish your body with real food.
Do you want to recover from your workouts better and feel more energized from your diet?
As a nutritionist and busy, active woman myself, it's a priority to make sure my recipes are packed with protein, veggies, healthy fats, and a variety of nutrients to keep you satiated, nourished, and fuel you through your busy work day or recover after a hard workout.
Do you feel uninspired in the kitchen or get bored with what you're eating?
Eating the same thing every week can get old. Cooking and eating should be something you look forward to and get excited about. As a member, every week you will get 3-4 new seasonal recipes to get you excited to cook and eat nourishing meals during the week, while leaving enough room for you to still enjoy your favorite staple meals or get dinner with friends.
Do you find yourself at 5pm not knowing what to eat and ordering take-out too often?
As a member, you will learn my fool-proof meal prep method so dinners come together fast when you get home from work. Each menu comes with a meal prep guide with a list of the items you can prep ahead to take all of the organizational and mental work out of it for you. You'll save money on take-out (and groceries) and reduce your food waste!
Does meal planning and grocery shopping stress you out and take too long?
With 3-4 new seasonal recipes every week, you won't have to search endlessly on Pinterest to try and decide what to make for dinners during the week. Each menu comes with a full grocery list organized by the section of the store to make grocery shopping a breeze. You can easily write in any other staple items you need to buy and get your shopping done in one fell swoop!
Do you suffer from decision fatigue?
There are lots of free recipes out there, but the process of deciding what to make can be exhausting and overwhelming. I make those decisions for you by sending you 3 new, nourishing dinner recipes that all compliment each other for a week of balanced meals with less food waste.
a sneak peek of what you'll get:
a weekly menu with 3-4 seasonal recipes
from a Nutritionist and Chef to fuel you through your workouts and work week.
Printable PDF with recipes and a full grocery list
organized by the grocery store section to save you time and money.
A meal prep guide
to save you time during the week and teach you how to meal prep like a pro.
weekly cooking videos from natalie
That show you step-by-step how to make each recipe. Plus knife skills videos to become a better, more efficient cook.
Plus! Join our private Facebook group
where you can ask me questions about recipes or nutrition, share photos of your meals, and communicate with fellow active foodies. Ask me anything!
check out the club recipes
search through the Cooking Club recipes, where you can filter by meal type, season, ingredients, and more.
how the Cooking
Club works:
Download your PDF
Where you'll find the week's recipes, grocery list, and full meal prep guide.
Print your grocery list + head to the store
Add any extra staples you need so you only have to shop once. Easily make swaps with substitutions from Natalie's "substitutions" section.
Meal prep like a pro
Follow Natalie's fool-proof meal prep guide to make dinners come together faster during the week.
Watch the recipe videos and get cooking!
Watch Natalie make the recipe to help you cook dinner with ease and confidence.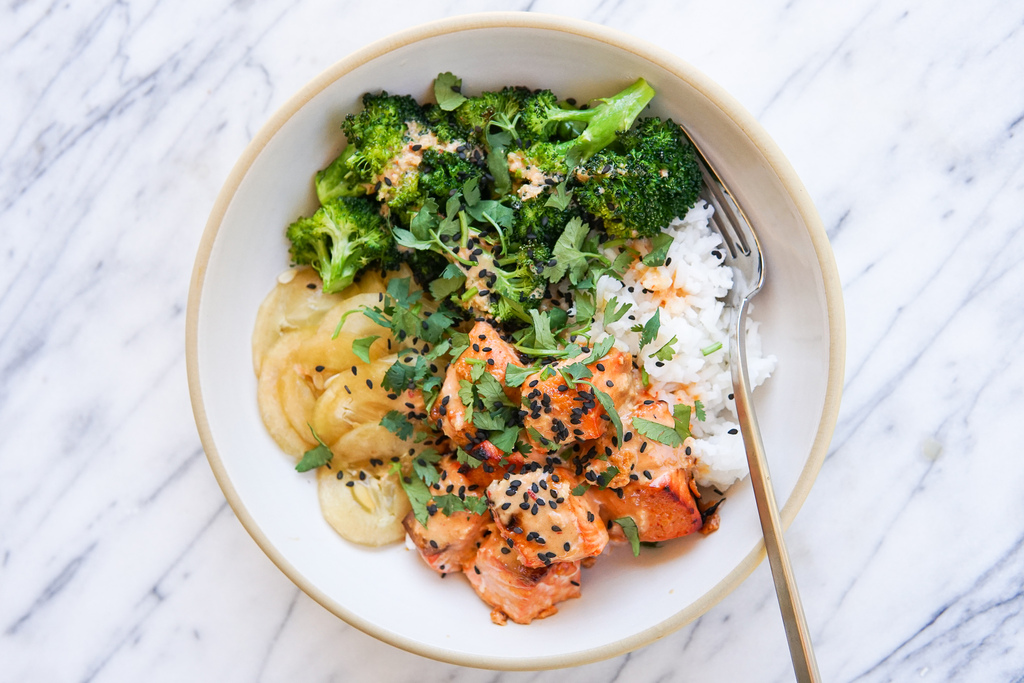 get
5 member

favorite recipes!
Join the email list to get your free recipes + free monthly content from Natalie.
Linda H.
"I love that the recipes are healthy…and they've actually lowered our grocery budget and grocery bill.."
Adriana B.
"We learned a completely new approach to meal planning…it gives me a simple game plan to follow to feed my family of 4 with nourishing and seasonal meals."
Karen R.
"100% of the sauces are so mind-blowing delicious and my 12 year old is eating more vegetables than ever before"
Amy D.
"All recipes are so easy to follow and so tasty…I also enjoy her nutrition background and how much emphasis she places on making sure the recipes are well balanced and healthy."
"There aren't words to capture just how much we love Natalie's Cooking Club – it has been a game changer for our family. I've used many apps and meal prep programs in the best but this one far exceeds every other in terms of the quality of the recipes and the ease of shopping and prepping."
– KATIE O.
Cooking Club membership plans
Risk free – Cancel Anytime.
Most Popular (save annually!).
What kind of recipes can I expect?
You can expect lots of seasonal vegetable-heavy meals full of healthy fats, whole grains, legumes, nuts, quality meat/seafood, and other real whole food ingredients. I focus on creating plant-based, Mediterranean-style, seasonal meals that focus on cooking with real food ingredients.
All recipes are designed to be balanced, nutritious, and indulgent. You don't have to sacrifice flavor to eat a healthy diet (quite the opposite!).
In general, one (or none) of the three recipes will have meat or seafood and the other two will be plant-based. For all recipes with meat or seafood, dairy, or gluten, I will give options for substitutions at the bottom of each recipe.
What is Natalie's food philosophy?
Instead of restricting foods, counting calories or macros, and labeling foods as good or bad, I believe that filling up on all of the nutrient-dense foods I love is the more sustainable route to long-term health and a healthy relationship with food.
I love beets, mushrooms, sweet potatoes and broccoli, but I also love pasta, bread, cheese, meat, and butter. Why can't we have it all? I'm here to show you how you can. It's all about balance people!
By simply learning to cook with real, whole food ingredients, cooking and eating becomes way less stressful, more intentional, and eventually you'll be able to eat more in tune with what your body needs.
With so many free recipes out there, why pay for this?
Our members find that their membership has saved them a significant amount of money on groceries every month because they are more organized with meal planning, get a pre-made grocery list, and waste way less food (and money).
The cooking club takes away the dreaded question "what am I going to have for dinner tonight?" and does all of the deciding, thinking, and planning for you. The internet has loads of recipes, but is scrolling, pinning, and liking really how you want to spend your time? With the Cooking Club, all you have to do is grocery shop, pick up the recipe, and start cooking. I do all the menu planning and grocery list making so you have more time to take care of you and your life!
You'll also receive tips and tutorials that will level up your cooking skills.
Plus, the perks! Cooking Club members get access to an exclusive Facebook community where you can post photos of your meals, ask Natalie any recipe or nutrition questions, and chat with other members.
This club is for people who enjoy cooking, want to eat better at home, but run out of ideas or suffer from the decision fatigue of trying to figure out what to eat every night.
What do I get every week?
3-4 recipes (3 dinners, plus the occasional snack, treat, smoothie, etc…)
Grocery list
Meal prep list and guide
Video of Natalie talking highlighting the meals and walking you through the simple prep
Access to private Facebook group
Why only 3 recipes/meals?
Most people don't like to make 5 different recipes every night of the week. Having 3 meals planned out for you gives you flexibility to make your staple meals, get take-out, or spontaneously go to a friends house for dinner.
How many does each recipe serve?
Each recipe is made to serve 4 people. If there is only one person in your household, you can divide each recipe in half and have leftovers for lunch. If you are two people, follow the recipe and cook for four so you can enjoy leftovers the next day.
What if I am vegetarian, vegan, dairy-free, or gluten-free?
I give substitution recommendations for every meal to make it all of the above. You'll find that most of my meals fit into those categories with easy substitutions if they do not.
What is the cancellation policy?
You can cancel at anytime if you pay monthly. Annual subscriptions have a 14 day deliciously nourished guarantee.
Do I get access to all recipes when I subscribe?
Yes, you can go to the archives, pick any past week, and get the menu, recipes, grocery list, etc…
Can I give a subscription as a gift?
Working on making this easier. For now, send me a message at natalie@nataliecooks.com and we will set it up!
What if I have more questions?
Send me (Natalie) an email at natalie@nataliecooks.com with any additional questions (or just to say hello!). I'd love to hear from you!
Reviews 

and Member Photos
"Your recipes have beyond exceeded all exceptions I had and there are so many that I really heavily on your facebook community to guide me on what to cook next. The creativeness of your sauces and dressings if mind blowing and the nutrition that is in every dish is beyond pleasing. I love making so many recipes with seasonal veggies and fruits now (have learned quite a bit from you). The videos and informative questions is just an extra bonus. I am definitely a Natalie Cooking Club fan!!!"
— LINDA R.
"I'm so stoked I found Natalie and her cooking club. We are a family of four and like to cook. Half of the battle is organizing what we are going to eat for the week. I love that her cooking meals and prep are efficient, seasonal and inspirational. Do my kids eat everything? No, but they try and are introduced to stuff. When Natalie says it will take 30 minutes, I can trust her. I so appreciate that being a family with two young kids and two professionals. Thanks Natalie!"
— EMILY P.
"I just wanted to tell you how much I look forward to the weekly emails announcing this week's recipes. I'm a mom of two under 5, working full-time (from home due to the pandemic) and the cooking club has made my life so much easier.
Just having a grocery list already made for half the week's meals is a game changer! We typically stick to RFCF/RFCFES for delish meals, so we plug in the rest of the week's recipes from there (love that you are primarily offering veg options!). Your videos are awesome—the strategy with the meal prep by location (oven.stove.chop) is brilliant and now that I know how to store herbs/greens, no more cringing about throwing away a bunch of parsley only to replace with another. Needless to say, the meals are enjoyed by us all—so tasty and varied. "
— JULIE D.
"Healthy, delicious meals that come together quickly!! No more wondering what to cook with the endless variety of recipes that are easily adaptable to different diets, videos that teach easier ways of preparing and cooking meals, weekly shopping lists, and answers to any and all questions you may have. I can't say enough good things about this club. Thanks, Natalie!!"
— DINA L.
"Natalie has been instrumental as a cookbook assistant to the publications of Run Fast Eat Slow and Run Fast. Cook Fast. Eat Slow.
Recently, this past April, she helped me meal plan and cook up delicious meals as I prepared for the Boston Marathon! I relied on her nutritional wisdom to help fuel me for a grueling race. It was heavenly knowing Natalie would grocery shop for all the ingredients, prepare the food and stock my fridge!!! My family and I were so grateful for her help as I chased my athletic dream."
— SHALANE FLANAGAN, OLYMPIC SILVER MEDALIST, FOUR-TIME OLYMPIAN, 2017 TCS NEW YORK CITY MARATHON CHAMPION